Welcome everyone. Krista, from A Handful of Everything, and I would like to bring you:
Happy New Year. Yesterday wasn't just new year's eve for me but also my wedding anniversary (8 yrs). The traditional gift is bronze but my husband and I are doing electronics...we want to get the new PS4. I hope everyone had a great new year and that 2014 is a great year for you all. Now on to the show
We will be pinning every entry to pinterest. Follow our board.
*Please follow your host and co-host on any or all social media
Host: Krista from-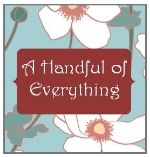 Co-Host:
Me Joybee--
*Grab a party button and put it somewhere on your blog (or text link back to us).
*Click on at least two other links and please leave a comment (I know I love getting comments).
*Remember to link directly to your blog post not just your home page.
Now lets party. Enjoy.