A dip made with sour cream, green onions, cheese, and bacon bits. It's like a loaded baked potato on a chip.
I don't know if the rest of you are as excited as I am, but college football starts this weekend. I love watching college football (I like NFL too). There are only a few teams I really care about (my alma mater and my husband's alma maters--he has a PhD so there are a few) and the rest I watch jeering against a rival or just have on in the background hoping for a good game. My husband even brings our second TV into the living room so we can watch 2 games at once (one time we had games on both TVs, 2 laptops, and a cell phone).
Get excited about football w/ Loaded Baked Potato Dip [Tweet this]
Besides the football, I love the food. Usually, it's just me and my husband but occasionally a friend or two and I love having some kind of football snack for us. Dips are an especially great gameday snack and this one is one of my new favorites. I love a loaded baked potato and that's what you get with this dip. It's the perfect addition to just about any potato product. I dipped chips, but it would also taste great with fries, tots, wedges, skins, even mixed in with mashed potatoes. Try some at your next football gathering or any gathering.
Loaded Baked Potato Dip
Ingredients:
16 ounces sour cream
1/2 pound of bacon, cooked and chopped
1-2 cups green onion slices
1-2 cups shredded cheese
(your choice)
Place the sour cream into a large bowl and stir in all the other ingredients. Add a hand full at a time and stir until it looks fully loaded to you. Reserve some of each to sprinkle over the top as a garnish (optional).
Serve with your favorite potato product. Enjoy.
Linked to: Two Cup, Lou Lou Girls, Teach Me, Tasty Tues, Brag About It, Whimsy Wed, Wonderful Wed, The Yuck Stops Here, Wed Roundup, Cook Craft Share, Eat Create, Freedom Friday, Foodie Friends, Pretty Pintastic, See Ya in the Gumbo, Merry Monday
Featured on:
See Ya in the Gumbo
,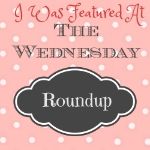 Follow Joy Bee's board Joybee Whats for Dinner blog posts on Pinterest.