Welcome everyone. Krista, from A Handful of Everything, and I would like to bring you:
So it sounds like the U.S. government will make a compromise today and re-open the government...we'll see.
I don't feel like posting my usual Wednesday post. I usually post a recipe every Monday, Wednesday, and Friday but today I'm just not excited to post anything. I will still be active on Google+, Twitter, and Facebook but I won't be promoting a personal daily post. My question for all of you is: Do you ever have days when you don't feel like posting? What do you do at these times? Now back to GIT 27.
We will be pinning every entry to pinterest. Follow our board.
*Please follow your host and co-host on any or all social media
Host: Krista from-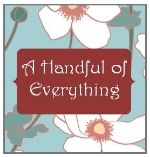 Co-Host:
Me Joybee--
*Grab a party button and put it somewhere on your blog (or text link back to us).
*Click on at least two other links and please leave a comment (I know I love getting comments).
*Remember to link directly to your blog post not just your home page.
Now lets party. Enjoy.